Advantages of Ear Surgery
Ear and earlobe lobe surgery is a common procedure and mainly performed under local anaesthesia. These procedures often help those who are frustrated with the shape (bat ears), large earlobes or holes created for earrings that have torn. It also can repair the large holes in earlobes that are common for both men and women. Cutting a small notch on the torn lobe then meticulously stitching the lobe back together is generally how this procedure is performed. Those patients wanting to re-pierce the lobe may do so after about 6 months.
The best candidates for ear and earlobe surgery are men and women of all ages who meet one or more of the criteria listed below:
1. Well researched
2. Sensible expectations
3. Feel a change in size and or shape will improve their appearance
The best candidates for earlobe repair surgery are men and women of all ages who meet one or more of the criteria listed below:
1. Split or torn earlobe
2. Stretched earlobe
3. History of earlobe trauma
During your consultation, we will be able to determine if earlobe repair is the best option available for you. Prior to surgery, it is essential for patients to possess good overall physical health and realistic expectations
Ear Surgery Procedure
Process of Ear Lobe Repair
While the simple and effective procedure of an ear lobe repair can be described as cutting a small notch on the ear lobe to then stitch it back together, there is some information pertaining to this surgery that you may want to be aware of.
Only local anesthesia is required.
Procedure typically only takes one hour.
Minimal scar formation.
Minimal discomfort after earlobe repair, which can be treated with regular Paracetamol.
Patients can return back to work immediately following the procedure.
Stitches are removed or dissolve on their own depending on what is used.
Further more, the procedure will start with the local anesthesia, and in order to rebuild the earlobe, the healed and scarred elements have to be removed, if this applies to the type of ear lobe repair procedure you are receiving. The repair is then performed in a zigzag or straight line and fine threads are used to support the repair and minimise possible scarring.
Potential Risks or Complications With an Ear Lobe Repair
This procedure is extremely simple, but just like all types of surgery; it does have potential complications and side effects, although they too are minimal.You could experience excessive scar formation, notching, infection or recurrence, which is why it is so crucial to seek a trained professional to complete the ear lobe repair.
Ear Surgery Aftercare
Once your treatment is complete you will be transferred to the recovery room where you will rest and eat and drink. Usually after 10-15 minutes you will be ready to go home. 30-45 minutes if you have sedation.
At Day 1 and Day 7 we will expect you to return for a wound check. Some sutures will be removed after 7 days and your wound checked. Your surgeon will see you after six weeks for a follow-up assessment and as often as required until you are fully recovered. It is vital that you attend all necessary postoperative appointments.
Following surgery it is advisable to keep your head elevated whilst sleeping for at least 5 days to reduce swelling. Scars can get wet within 48 hours but do not rub the wounds. Minimal bruising disappears in a couple of weeks but residual swelling may last for months. Your appearance is generally presentable in a week for earlobe surgery and 2 – 4 weeks for bat ear correction however healing continues for up to a year.
FAQ
Earlobe repair surgery is a relatively simple procedure performed under local anesthesia. The skin is trimmed around the torn or stretched. Once the excess skin has been removed, then the wound edges are sutured back together.
Following surgery, you will be provided with specific aftercare instructions. The recovery process after earlobe repair is minimal. It is common for patients to experience some mild discomfort, which is easily alleviated with over-the-counter pain medication. Sutures are typically removed within a week. If you are planning to get your ears re-pierced, it is recommended that you wait at least two months in order to ensure proper healing.
The results of earlobe repair should be permanent once it has settled down. Try not to re-pierce your ears immediately following surgery and do not resume wearing heavy earrings for extended periods of time, or there is the chance that you will require further surgery.
As with any surgery, earlobe repair does present some degree of risk. The chance of experiencing complications during this treatment, or as a result of it, are uncommon and the doctor or his staff will go through all of the potential risks with you prior to surgery. Some of the potential risks include infection, excessive scarring, notching or recurrence.
The surgeon who performed your surgery will see you after six weeks for a follow-up assessment and as often as required until you are fully recovered. It is vital that you attend all necessary postoperative appointments.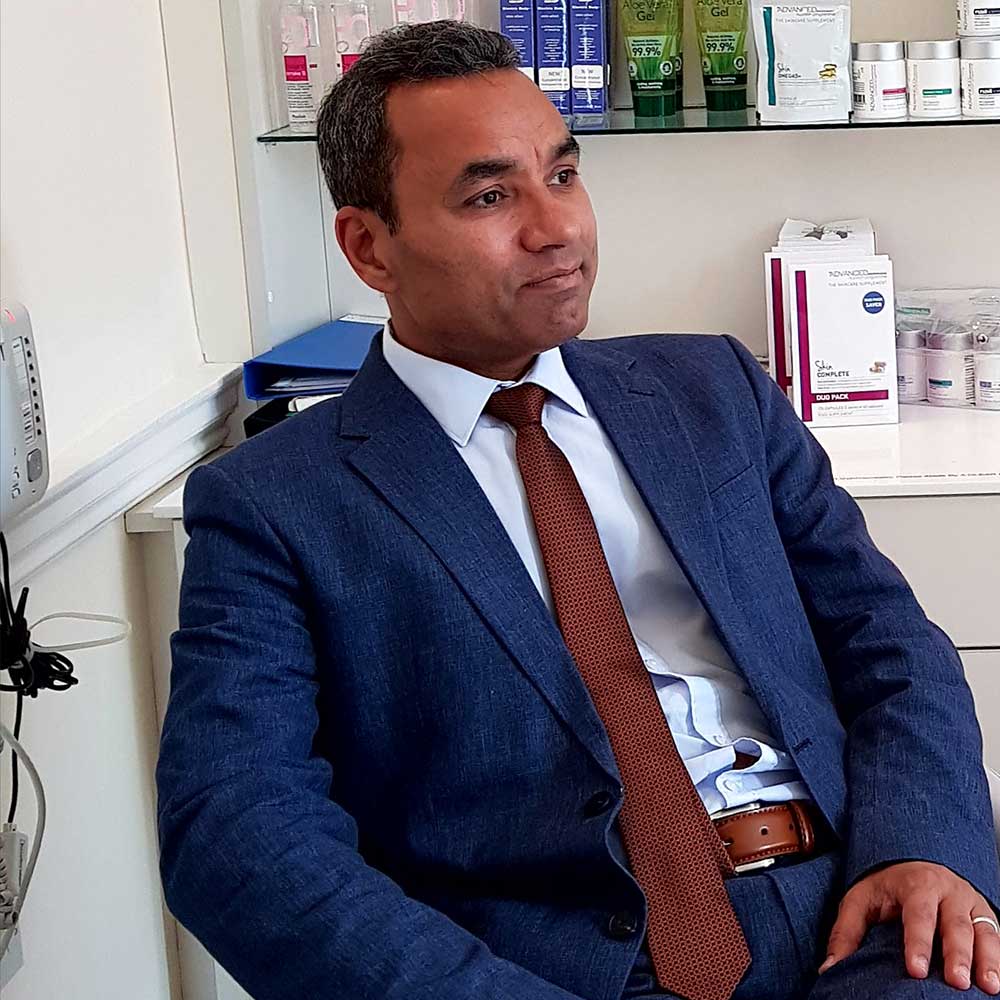 Your
Practitioner
Mr Hassan Shaaban |
Plastic Surgeon
Face, Breast and Body Contouring Surgery
GMC Number: 4560472
Consultations: 99 Harley Street
His aesthetic interest lies in the field of earlobe reductions, face and neck lifts, mini, breast work and full tummy tucks and cellulaze laser therapy for cellulite.
Professional Memberships


Rated 10 out of 10 based on 33 reviews.

I can't recommend EA clinic enough. I have had several procedures there now (vaser liposuction, mole removal and peels) and between Gill and Dr Anthony I have been so well looked after. They are consistently professional, passionate and clear in the options they provide you. Whether it is consultation, procedure or aftercare Dr Anthony always has so much time to make you feel at ease and fully informed. Both Gill and Dr Anthony are also friendly which is so lovely and welcoming as a patient. Overall I feel so much happier and confident since seeing the team at EA Clinic.