Advantages of Breast Scar Lasering
Scarring of the breast can be of some concern to woman post surgery. However, lasers can be used to make the scars less visible and thus bring a self-confidence back Different types of laser are available with different downtimes and different outcomes. Your doctor will discuss this with you during your consultation.
Effective
Minimal discomfort
Non surgical
Quick
Day procedure
Breast Scar Lasering Procedure
Anaesthetic cream is usually placed on the skin 45 minutes before the treatment. Photos are taken and the consent form signed. Then the skin is cleaned of any debris and anaesthetic cream. The eyes are protected with laser googles. Local anaesthetic may be used. The lasering is then performed. After the laser treatment petroleum jelly is applied and then you are free to go home.
Breast Scar Lasering Aftercare
Once your treatment is complete, you will be free to leave. You may find that your skin takes on a pink glow immediately following the softer laser treatments. For the medium to aggressive laser treatments we will usually ask you to continue with specific written instructions for your aftercare.
FAQ
For early scar management we use the Ultrapulse CO2 laser on a low setting with the AFT IPL lasering. One session every 4 weeks for 4 sessions.
We perform ablative lasering. Depending on the amount of downtime the patient can tolerate or permit we will choose between the Pixel, Erbium YAG and Ultrapulse CO2 laser. Usually several sessions are required to see a 60-80% improvement. On fairer skin types the Ultrapulse CO2 laser performs the best and requires less sessions.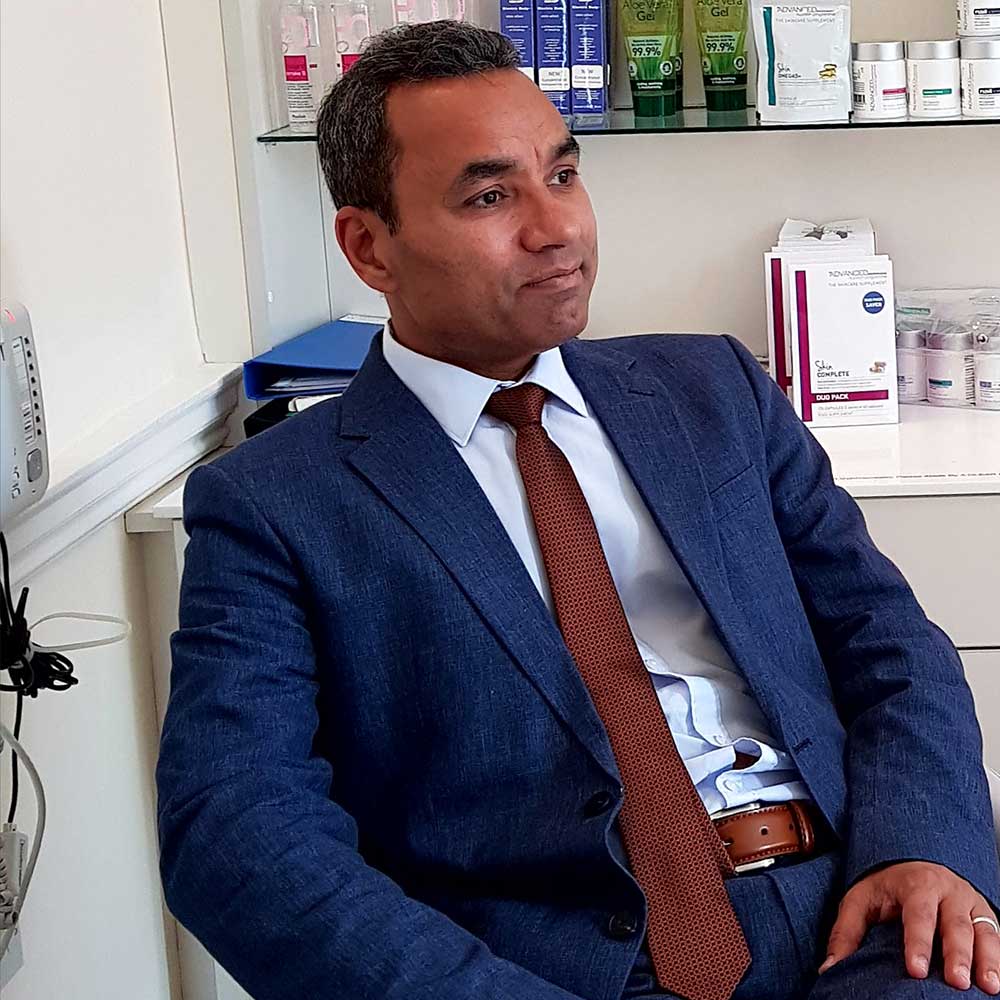 Your
Practitioner
Mr Hassan Shaaban |
Plastic Surgeon
Face, Breast and Body Contouring Surgery
GMC Number: 4560472
Consultations: 99 Harley Street
His aesthetic interest lies in the field of earlobe reductions, face and neck lifts, mini, breast work and full tummy tucks and cellulaze laser therapy for cellulite.
Professional Memberships


Rated 10 out of 10 based on 33 reviews.

I can't recommend EA clinic enough. I have had several procedures there now (vaser liposuction, mole removal and peels) and between Gill and Dr Anthony I have been so well looked after. They are consistently professional, passionate and clear in the options they provide you. Whether it is consultation, procedure or aftercare Dr Anthony always has so much time to make you feel at ease and fully informed. Both Gill and Dr Anthony are also friendly which is so lovely and welcoming as a patient. Overall I feel so much happier and confident since seeing the team at EA Clinic.