Advantages of Breast Enlargement
Women who are considering breast enlargement often feel that their bodies are out of proportion, either from a lack of development of breast tissue, or having lost breast tissue following weight loss or breastfeeding. This may result in a lack of self-confidence or low self esteem, as well as restricting their choices of clothing. Implants or fat grafting are the choice methods.
Implant Breast Augmentation
1. Definitive procedure
2. 45-90 minutes
3. Permanent change
4. General Anaesthetic
5. Immediate change
Fat Graft Breast Augmentation
1. 2-3 hours
2. Liposuction needed to harvest fat
3. Natural change
4. LA +/- IV sedation
5. Mild discomfort
Breast Enlargement Procedure
Most procedures in the is section are performed under IV sedation as a day procedure. The usual procedure time is anywhere between 30-90 minutes. A small incision is placed in the breast crease, then the implant is placed and the incision closed. Once the procedure is over we will place a dressing on the site and take you to the private discharge lounge.
Breast Enlargement Aftercare
Once the procedure is over we will place the grade 3 shock absorber sports bra that you would have previously purchased. We will advice you as to any specific aftercare and which pain relief you should use, usually over the counter analgesia. We will give you our emergency contact details if you are concerned about anything. As standard we will follow you up at day 1, 1 week and 6 weeks.
FAQ
Your reason for Breast Enlargement may simply be to have larger breasts. However, other common
reasons include:
Improve symmetry
Feel more feminine and attractive
Restore volume to the breast following pregnancy, breast feeding or weight loss
Correct congenital deformities
Add volume to breasts that did not develop fully following puberty
Boost confidence and improve body image
A breast augmentation can increase breast size and may improve shape and enhance breast symmetry.
Fat grafting to the breast suits individuals who just want to add a small amount of volume to the breast to fill their bra better or a 1 cup change.
There is no evidence of any interference with the ability to breast feed.
Yes, but please note that should you need to undergo breast cancer screening (mammogram), inform the person performing the screening that an implant is in place.
Breast enlargement, involves the insertion of a silicone breast implant to increase the size of the breast and in some cases improve the shape as well. It is also possible to enlarge the breasts using fat harvested from another area of the patient's body, such as the abdomen or the buttocks. Breasts can be made larger by placing an implant either under the breast tissue or behind the muscle on which the breast lies. Implants are usually inserted through incisions in the fold under the breast. Alternatively, the incisions may be made around the areola or in the armpit. There are different types of implant available and your surgeon will discuss these with you to help you decide what is right for you.
Following breast enlargement surgery you will need to keep your breasts well supported. You are likely to be required to wear a breast band. The breast band needs to be worn above the breast on the chest (not across the breast). It should be firm but not tight. We recommend you wear a stretchy, non-underwired cotton bra. Your dressings will be removed approximately 7-10 days after your surgery and your wound checked. The surgeon who performed your surgery will see you after 6 weeks for a followup assessment and if necessary you will be advised to massage the breasts to soften them. You will be seen as often as required until you are fully recovered. It is vital that you attend all necessary post-operative appointments. It is recommended that you take two weeks off work and avoid physical exercise for six weeks. Return to exercise gradually.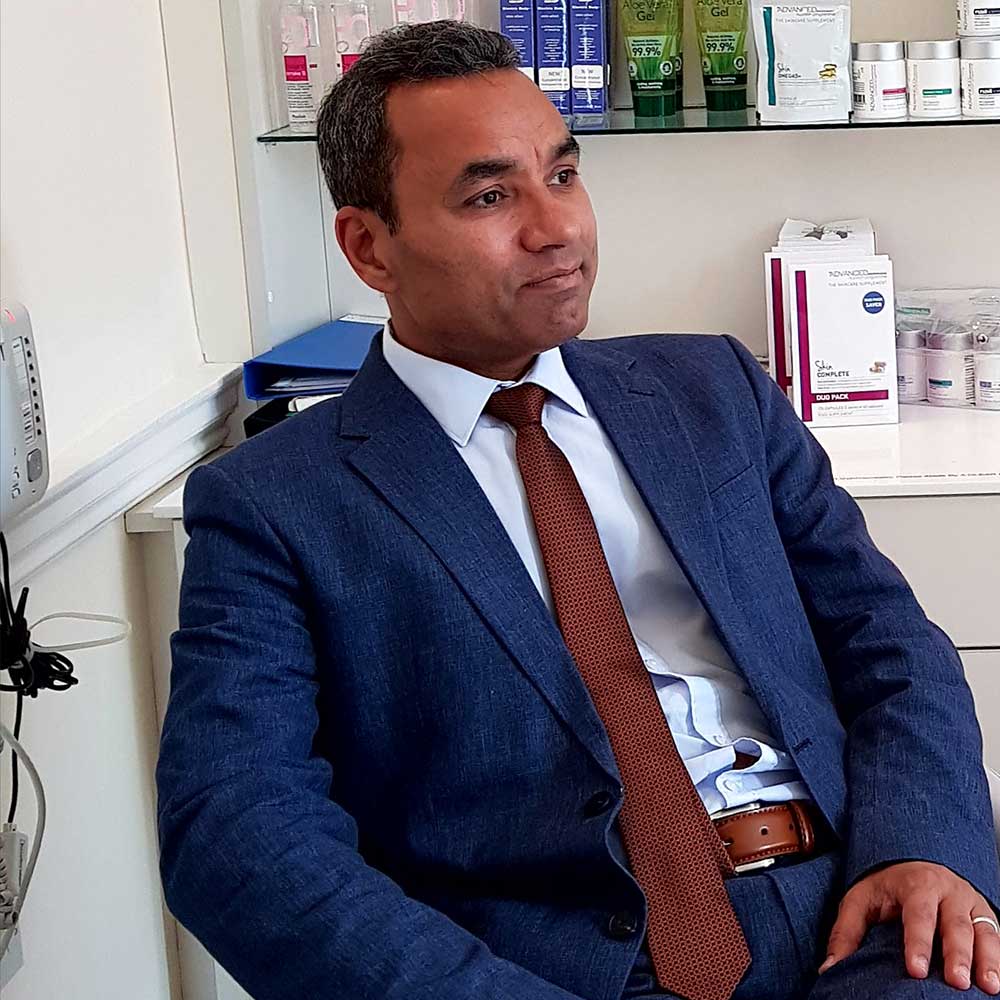 Your
Practitioner
Mr Hassan Shaaban |
Plastic Surgeon
Face, Breast and Body Contouring Surgery
GMC Number: 4560472
Consultations: 99 Harley Street
His aesthetic interest lies in the field of earlobe reductions, face and neck lifts, mini, breast work and full tummy tucks and cellulaze laser therapy for cellulite.
Professional Memberships


Rated 10 out of 10 based on 33 reviews.

I can't recommend EA clinic enough. I have had several procedures there now (vaser liposuction, mole removal and peels) and between Gill and Dr Anthony I have been so well looked after. They are consistently professional, passionate and clear in the options they provide you. Whether it is consultation, procedure or aftercare Dr Anthony always has so much time to make you feel at ease and fully informed. Both Gill and Dr Anthony are also friendly which is so lovely and welcoming as a patient. Overall I feel so much happier and confident since seeing the team at EA Clinic.